Mashable SE Asia
Here's a not so fun fact: There are over 40 million diagnostic errors involving imaging across the world in just one year alone.
Despite the estimates of average diagnostic error rates ranging between 3 percent to 5 percent, the number is still in the millions and that's huge.
Devika Dutt, the co-founder and COO of a Singaporean HealthTech startup, Claritas HealthTech, can attest to this.
How do diagnostic errors occur?
"My son was suffering from recurring stomach pains, and after getting a CT Scan just to rule out any issues, the first set of results suggested that he needed surgery. I was horrified and distressed but after a second round of tests and scans, it turned out the first scan was simply unclear, and to my huge relief there was absolutely no need for any surgery. It was just a misdiagnosis and the infection was easily treated with medication," she said.
These diagnostics happen due to radiation, low light, or tissue absorption.
For Dutt, the almost horrifying experience gave birth to the noble idea to create a technology that minimizes these diagnostic errors.
Enter Claritas iRAD.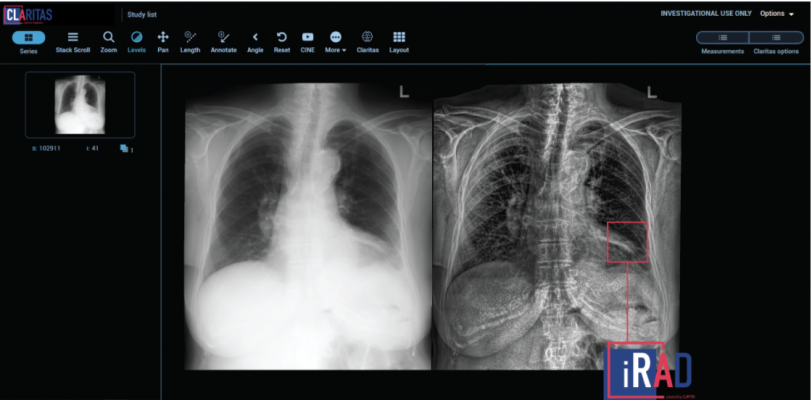 Devika pooled together a team of imaging specialists, scientists and mathematicians to create an image enhancement process.
Claritas iRAD does that by preserving the finest details by individually enhancing each pixel to produce an image of high precision.
The tool greatly improves clarity, without distorting, exaggerating or compromising the details of the original image. Claritas iRAD can be seamlessly integrated into any of the existing radiology platforms, such as PACS (Picture archiving and communications systems) Viewer, to support better workflow.
Additionally, as the platform is accessed through the Cloud, Claritas HealthTech provides fast image processing at a user-friendly level, with no need for lengthy and complex training, even for first-time users.
Why is this tool revolutionary?
Improving diagnostic performances greatly reduces potential harm to patients.
"In my 12 years as a healthcare entrepreneur in Asia, I find that Claritas HealthTech has an extremely unique proposition that supports doctors and radiologists in reducing missed diagnosis. It is a potential aggregator when it comes to the many AI tools in medical imaging that show better accuracy with the proprietary image enhancement solution from Claritas HealthTech, which results in improved patient outcomes and reduces further unnecessary tests for the patient," Healthcare professional, Dr Vas Metupalle, who has used the tool said.
Imagine the amount of money, time, and effort that can be saved through Claritas iRAD. If you're curious about the tool, you can learn more about it here.

Follow Mashable SEA on Facebook, Twitter, Instagram, and YouTube.

Cover image sourced from Claritas HealthTech.