Cutting-edge imaging solutions developed through continuous R&D
iRAD Technology
Our team of expert scientists, mathematicians and imaging experts have developed and calibrated the iRAD image enhancement software for radiology over a period of five years. Claritas has created a proprietary image enhancement algorithm that has its foundation in well known methods, but has been modified in crucial parts, resulting in a 'novel' algorithm, producing substantially superior and unparalleled image enhancement results.
The technology leverages well-known and long-established techniques of image enhancement such as HE (Histogram Equalization), AHE (Adaptive Histogram Equalization) and CLAHE (Contrast Limited AHE). iRAD overcomes the shortcoming and issues faced by these methods by using its 'novel' algorithm to achieve enhancement results of high precision and clarity, whilst ensuring image authenticity.
iRAD applies its novel algorithm at the smallest level of the image, i.e. the pixel. The optimal degree of enhancement for each pixel, based on a number of criteria is determined and then executed. After each pixel is optimally enhanced the image is reconstructed (or "stitched" together) to render the final enhanced image. Some of the key elements include:
Contrast and Sharpness – to make the dim features visible
Strength and Noise Suppression – to reveal small barely visible details
Constraints – to preserve small details and ensure no distortion
Pixel Level Enhancement – to preserves image authenticity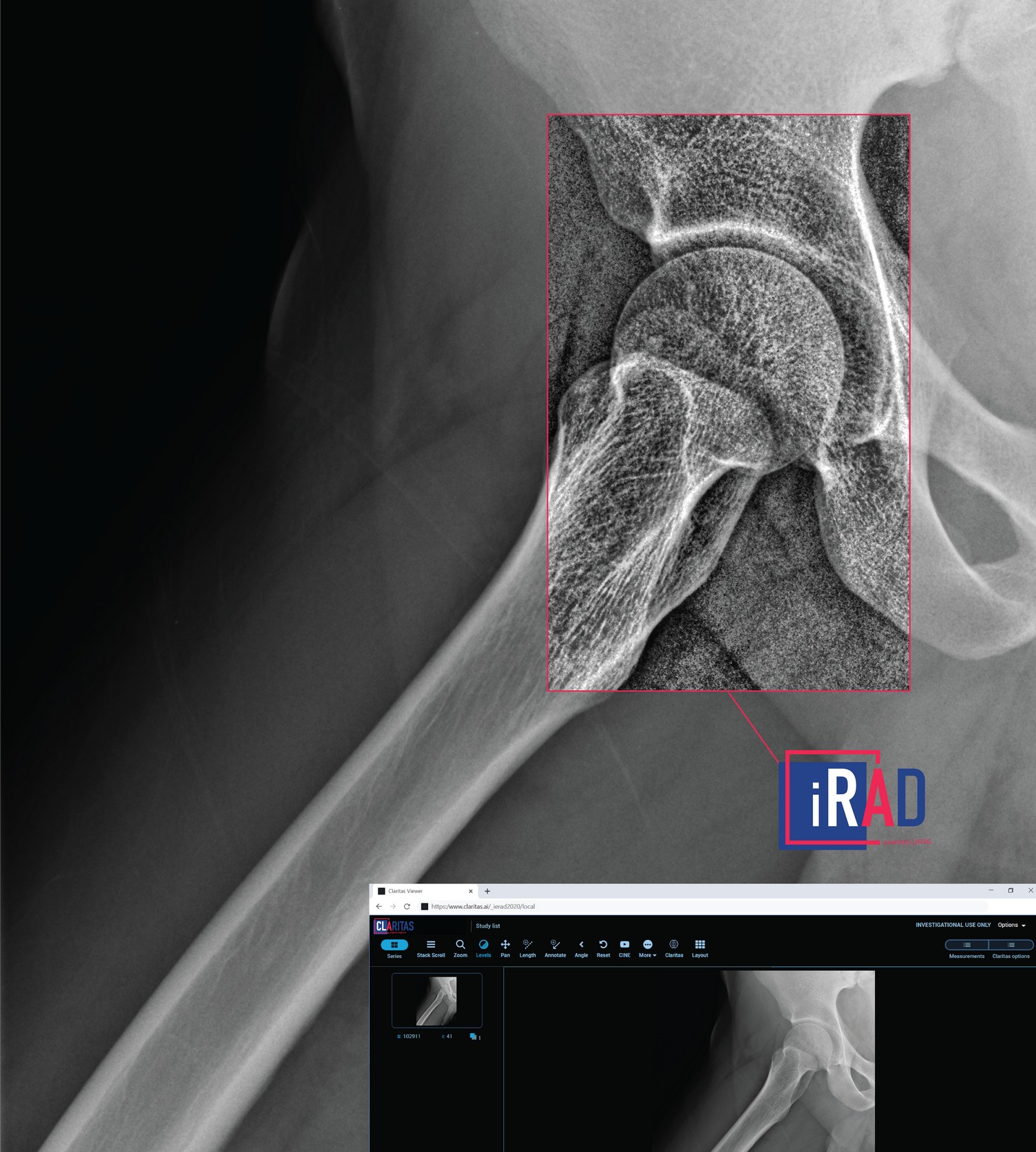 State-of-the-art image enhancement technology that is a powerful yet easy to use tool for diagnosticians
Seamless real-time cloud based processing of images which runs on Google Cloud Healthcare API
Accessible on any device supporting efficient workflow
Optional local onsite deployment in case images and data are not allowed to be transmitted offsite
Seamless Integration into Existing Viewers

iRAD is designed for easy and seamless integration into your current workflow. With highly configurable and flexible APIs, iRAD can be integrated into any Radiology Information System (RIS) and PACS, and becomes another tab on existing Viewers where images can be enhanced and viewed in real-time. Integration and deployment is rapid and the Claritas team will provide technical support for smooth integration to optimize image enhancement processing.

Claritas Web Viewer

The Claritas Viewer is an option that requires no integration at all and can be accessed and used anywhere anytime via the Internet. Doctors and clinicians can use the Claritas Viewer to submit images from their Worklist and enhance images in real-time.
Claritas solutions ensure patient privacy is protected and its medical software products are compliant with the Health Insurance Portability and Accountability Act (HIPAA) of the USA, the General Data Protection Regulation (GDPR) of the EU and the Personal Data Protection Act (PDPA) of Singapore.